A record number of over 500 participants from around the world convened in Basel, Switzerland for the [BC]2 conference. Organized by SIB, with the theme "Big data in biology: promises and challenges", this edition also marked 20 years since the first conference took place. As well as celebrations for this milestone, there were enlightening keynote speeches and thematic sessions showing the latest breakthroughs in computational biology and how to create bridges between academia and industry, and the announcement of the 2023 Bioinformatics Awards laureates.
An exceptional 20th anniversary edition
Held from 11-13 September 2023, the 16th edition of the [BC]2 Basel Computational Biology Conference was an exceptional one. In terms of attendance (+23% attendees since the last edition) and participation (+104% more participants to the tutorials and workshops, +52% abstract submissions) as well as through marking the 20th anniversary of the conference. The progress of the computational biology field over the past 20 years and an outlook to the future was thus highlighted in the welcome addresses by SIB's Executive Director Christophe Dessimoz and Group Leader Torsten Schwede, Vice Rector of Research and Talent Promotion at the University of Basel. The event was also celebrated at a welcome apéro and dinner and through a speech from Kaspar Sutter, Head of the Department of Economic, Social and Environment Affairs of Kanton Basel-Stadt.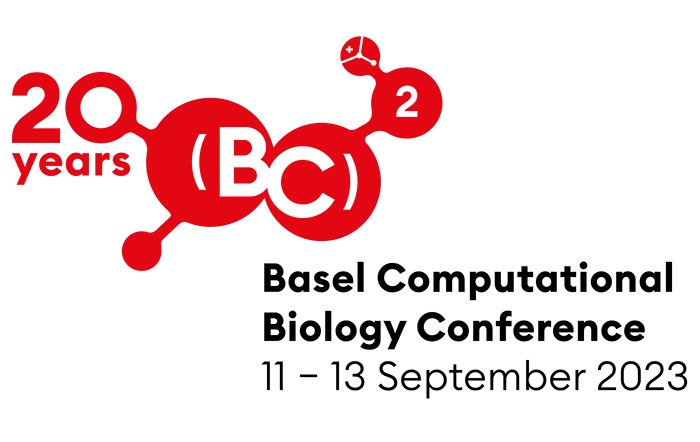 Inclusion and sustainability
To ensure an inclusive, diverse and sustainable event, initiatives and metrics were in place. Here are some of them:
Gender parity was ensured among members of the

scientific committees, session chairs

, keynotes and invited speaker

s.

Participants included 59% men, 38% women, 1% non-binary, 2% N/A,

31% of the selected talks were by women, following an

abstract selection process

aiming to reduce bias related to gender and institution

A Q&A session was organized specifically for PhD students to exchange with keynote speaker Elisabeth Bik, resulting in a highly interactive and stimulating discussion

S

ustainability initiatives

 

were put in place to reduce the environmental impact of the event
See the full EDI figures and takeaways here
A stimulating programme, from scrutinizing scientific fraud to AI-based single-cell modelling
The scientific programme compiled by the Scientific Committee provided an exciting panorama of the computational biology field through the plenary and parallel sessions, as well as the keynote speeches. Elisabeth Bik (Harbers Bik LLC), well known for her efforts to prevent fraud and maintain integrity in scientific research, delivered a stimulating opening keynote address with fascinating insights into her work. The second keynote Fabien J. Theis (Helmholtz Munich) presented the use of generative artificial intelligence for modelling the single-cell state and response. Scientific presentations spanned six sessions in themes such as machine learning, precision medicine, single-cell data analysis and ecology. There was also a special "[BC]2 highlights" session featuring the very best submitted abstracts which included a talk by Joana Pereira and her colleagues from SIB's Computational Structural Biology group on their work on the Protein Universe Atlas which was recently published in Nature.
Building bridges across academia and industry
A special session, chaired by Madiha Derouazi (CEO, Speransa Therapeutics) and Vincent Zoete (SIB Group Leader and Associate Professor at the University of Lausanne), highlighted industry-academia collaborations. Insights and best practices were provided to stimulate innovation in Switzerland through such partnerships: from important considerations for contractual frameworks facilitated by SIB's Legal and Technology Transfer team, to support available from Innosuisse and concrete experiences at Roche and in SIB's Comparative Genomics Group. Attendees looking at a career in the private sector also benefited from a 'Boost your career' corner hosted by SIB's People and Culture team. 
Recognizing excellence in computational biology
The conference also included the SIB Bioinformatics Awards ceremony in which the laureates of the PhD Paper Award, the Early Career Award and the Innovative Resource Award were presented their work. 
Read more about the 2023 Bioinformatics Awards laureates and watch their talks
In addition to the traditional poster prizes, an artwork prize sponsored by Roche took place for the first time to celebrate visions of bioinformatics in 2043. This was awarded to Anastasia Sveshnikova, from SIB's Swiss-Prot Group, for her work "Bionauts of the life science data: expanding the horizons of biocomputation." Find out more.
We would like to thank all speakers, sponsors and attendees for making this 20th anniversary [BC]2 conference a special one. We hope to see you at the next edition of the Basel Computational Biology conference which will be held from 8-11 September 2025, stay tuned.