The 2023 laureates of the SIB Bioinformatics Awards were announced at the [BC]2 Basel Computational Biology Conference held this September. In these awards, for which the call for entries is open worldwide, prizes are presented in three categories: PhD Paper, Early Career and Innovative Resource. This year, outstanding work has been recognized, particularly within machine learning as well as transcriptomics and the enhanced organization and analysis of complex genomics data. An initiative which once more reflects SIB's unwavering dedication to promoting bioinformatics and highlighting excellence within it worldwide. Discover the winners of this year's SIB Bioinformatics Awards and watch their plenary talks below.
Innovative approaches for imaging-based transcriptomics: Viktor Petukhov wins the PhD Paper Award
A dedication to research in biomedicine with a commitment to EDI: Maria Brbić wins the Early Career Award
For her research bridging machine learning and biomedicine as well as her "strong involvement in activities to promote diversity, equity and inclusion," Maria Brbić, Assistant Professor at EPFL received the Early Career Award. As well as demonstrating extensive expertise in machine learning, using this to advance single-cell biology and discover new types of cells, Maria has been instrumental in creating new courses for her department. She also spearheads initiatives to promote women in computer science and provides mentorship opportunities for students from underrepresented backgrounds.
Read more about SIB's efforts to foster EDI values in the bioinformatics community
Could you be the next laureate? 
Find out more about the SIB Bioinformatic Awards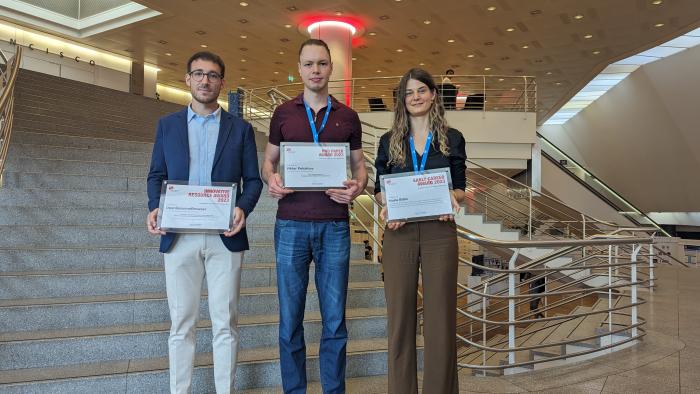 Facilitating the visualization of complex genomic data: OpenGenomeBrowser wins the Innovative Resource Award
The Innovative Resource Award was conferred upon OpenGenomeBrowser, a pioneering tool developed by Thomas Roder and his colleagues in the Interfaculty Bioinformatics Unit led by Remy Bruggmann at the University of Bern. The international jury describes OpenGenomeBrowser as "a great resource that tries to facilitate the organization and analysis of genomics data by bringing under the same roof a number of existing resources and databases." This resource, which stands out due to its dataset independence, user-friendly interface and interconnected tools, allows users to perform various functions such as filtering genomes based on metadata, creating phylogenetic trees and searching for annotations.
Could you be the next laureate? 
Find out more about the SIB Bioinformatic Awards