Contact request
Please choose the topic of your request in the list below.
Can I be admitted as a PhD student at SIB?


SIB is not a higher education institution but a federation of bioinformatics research and service groups and cannot admit PhD students under its direct supervision. To start a PhD in bioinformatics, you can contact one of the SIB Group Leaders affiliated with a Swiss University in one of the field of your interest from

this list

.

I am a PhD student in a Swiss university, can I join the SIB PhD Training Network?


Find out

about the different options to join the network.

Am I eligible to take part in SIB training courses?


Unless specified otherwise,

our courses

are opened to everyone. We recommend you to check the course's description for details on applicable fees.
We did not answer your question? Contact us about our training programme:
We did not answer your question? Contact us about our job opportunities:
What resources are developed at SIB?
Nearly

200 software tools and databases are developed by the SIB community and openly available on 

Expasy

, the Swiss Bioinformatics Resource Portal. Among them, 14 are designated as

SIB Resources

, and are selected and supported by the institute.

I am having trouble with one of the resources developed by an SIB Group, who should I contact?


Please contact the resource's support team indicated on the resource's webpage directly. You can find a list of all resources with a direct link to their website

here

. If you need to contact a resource supported by the ExPASy Team and cannot reach the resource directly, you can reach out to the 

ExPASy support

.
We did not answer your question? Contact us about our resources:
What sort of collaborative support do you propose, and for which type of biological or biomedical data?
Explore our service pages and tell us about the biological or biomedical data challenge you need to solve!
Contact us about general enquiries:
How to find us?
Several of our SIB Hub groups, including the Management and Support teams, are located on the ground floor of the Amphipôle building, University of Lausanne (UNIL).
SIB Swiss Institute of Bioinformatics
Quartier Sorge - Bâtiment Amphipôle
1015 Lausanne
Switzerland
Tel : +41 21 692 40 50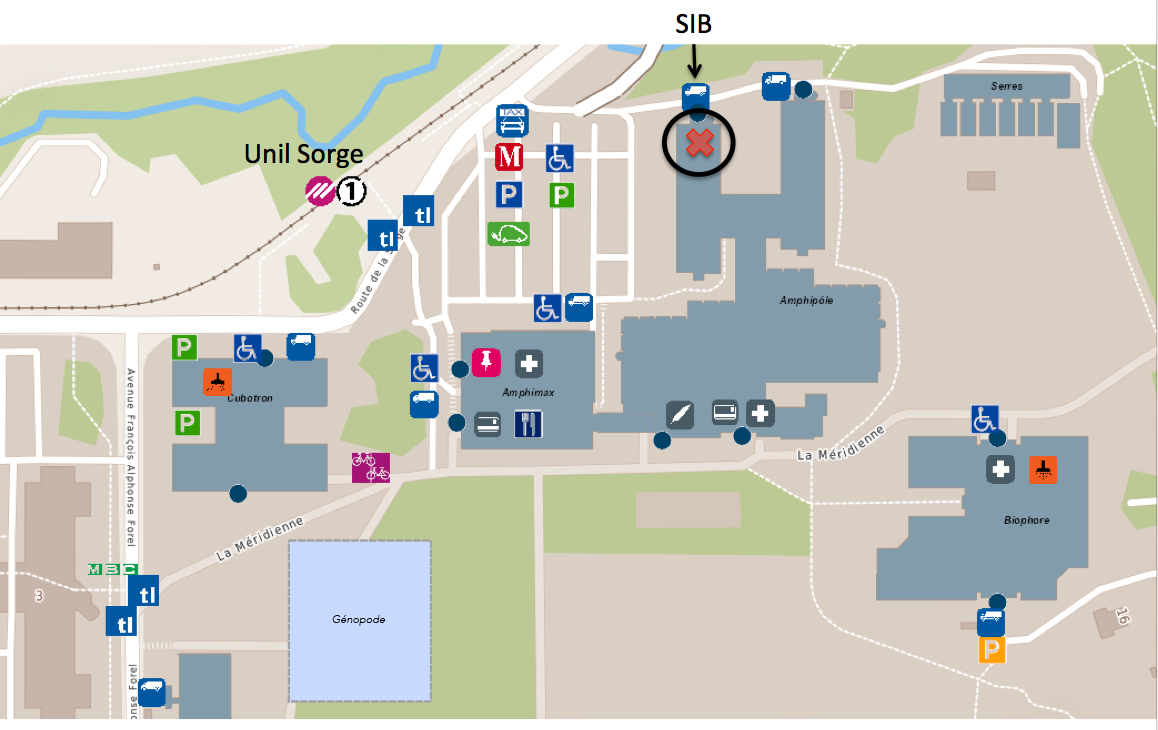 By plane, to Geneva, Basel or Zurich
By train, to Lausanne or Renens (see official website of the Swiss railway company, CFF).
By metro, to Unil-Sorge (see official website of the Lausanne public transports, T-L)
From Renens railway station: take metro M1 to the "Unil-Sorge" stop.
From Lausanne railway station: take the metro M2 going to "Les Croisettes" to the "Flon" stop, then the M1 metro going to "Renens CFF". Get off at "UNIL-Sorge".
By car, highway direction Lausanne-Sud, exit "Université-EPFL".
Visitor parking spaces are available in the car park next to our building.