As a leading institution in the field, SIB provides two distinct forms of recognition to highlight outstanding achievements in bioinformatics. With the Remarkable Outputs, the most notable works by our members, from scientific papers to outreach projects, are highlighted. The Bioinformatics Awards acknowledge early career bioinformaticians and ground-breaking resources of international standing. Discover the latest distinguished projects and laureates, the top reasons to submit your work in future, and meet the Award Committee.
Held every two years, the international SIB Bioinformatics Awards features three categories, each offering a cash prize.
The next edition will take place in 2025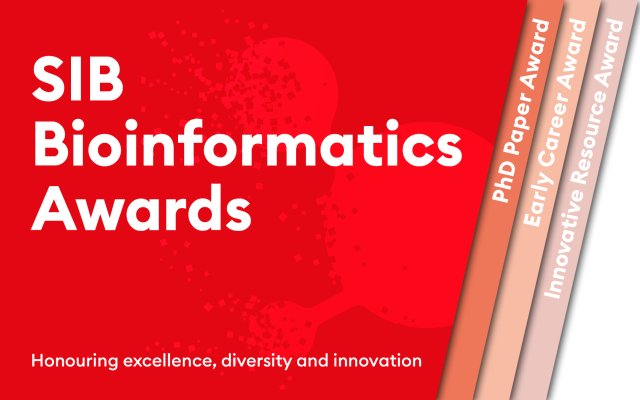 Meet the SIB Award Committee
To increase the visibility of the Swiss bioinformatics community, the SIB Award Committee aims to highlight outstanding achievements of SIB Members and promote the important role of bioinformatics as a scientific discipline. 
Concretely, their activities include: 
Overseeing the Bioinformatics Awards every two years, including the Early Career Award, the PhD Paper Award and the Innovative Resource Award. 
Selecting the SIB Remarkable Outputs, which recognize up to ten outstanding works produced by SIB Members each year. 
Nominating members for other national or international awards which recognize excellence in and contributions to bioinformatics and computational biology.