To achieve our mission, we rely on funding from the Swiss Confederation, who has continuously been our largest funder for over 25 years (see this evolution). Building on this stable foundation, our independent status, and the excellence of our workforce and network, we have established the institute as a reference for life science data. This has made us a trusted partner and leader in a range of competitive grants, collaborations and services. In our work on and for cutting-edge technologies, our principal investment is in people. Explore the Sankey chart below for detailed insights into how our financial resources are distributed and allocated.
Supported by competitive and governmental funding, investing in human expertise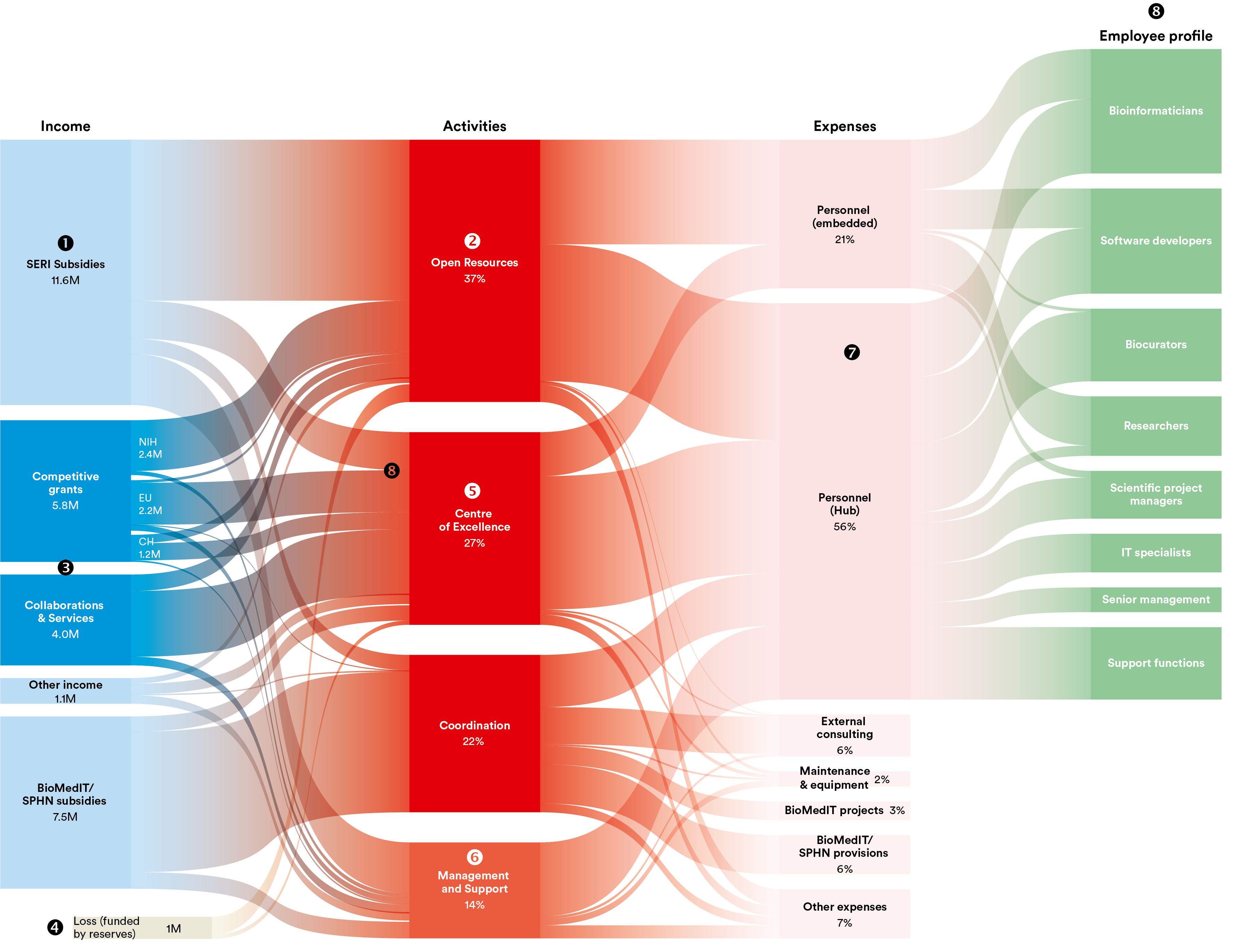 Powered by the Swiss Confederation

The largest and most stable funder of SIB is the State Secretariat for Education, Research and Innovation (SERI). Their contribution accounts for 39% of our institute's income, excluding specific BioMedIT/SPHN funding.

A unique funding model to sustain Open Resources

SERI's contribution to our open resources (53%, CHF 7 million) is complemented by many additional funding sources, including competitive grants and contributions from the industry. In addition, most resources are also supported by short-term research funds held at partner institutions.

One-third of SIB's income comes from competitive funds

32% (CHF 9.8 million) of the funds secured by SIB originate from competitive grants, collaborations and services. SIB's independent status, the diversity of skills of its employees, and the full professional support they offer, from scientific expertise to project management, make the institute a desirable partner. This includes inno­­vative projects with the industry (e.g. Innosuisse) and long-­term collaborations in European public-private consortia (e.g. Innovative Medicines/Health Initiatives).

Keeping up with increasing demands

The loss (3%) is funded by reserves to support additional open resources, in accordance with the investment strategy for the 2021-2024 period.

A centre of excellence that delivers

Our centre of excellence includes training and bio­informatics services to universities, private companies and hospitals amounting to a total of CHF 8.4 million. It is mostly funded through collaboration and competitive grants - many international.

Lean and effective management & support

The management and support functions expenses (14%, CHF 4.2 million) cover day-to-day administrative, people and culture, finance, communication, legal and IT support. These support teams also contribute to projects in the key pillars, for which the funds are allocated to the relevant activities (e.g. legal expertise for SPHN is allocated to Coordination).

Investing in people at the heart of research

77% (CHF 23.8 million) of SIB's funding is invested in our people, of which 73% are for employees at the SIB Hub and 27% are for employees embedded in partner institutions. This reflects our unique and efficient model anchoring Open Science infrastructure in research.

Bioinformatics: a variety of competencies and shared life science data expertise
A sustained support of the federal government
In the years following its launch in 1998 and alongside the growth of activities, SIB has received sustained support from the federal government.