As a leading independent scientific foundation specialized in life science data, we provide sound, objective and results-oriented professional services and solutions to academics, clinical and industry partners in Switzerland and abroad. Keep reading to discover our 360° approach, the type of data we work with, how we would work together, and our complete service portfolio.
We assist you at all stages of discovery
Our experience spans the discovery steps following the generation of data, from R&D to applications. We leverage our national network of over 80 research and service groups to complement our core strengths and connect you with the right experts.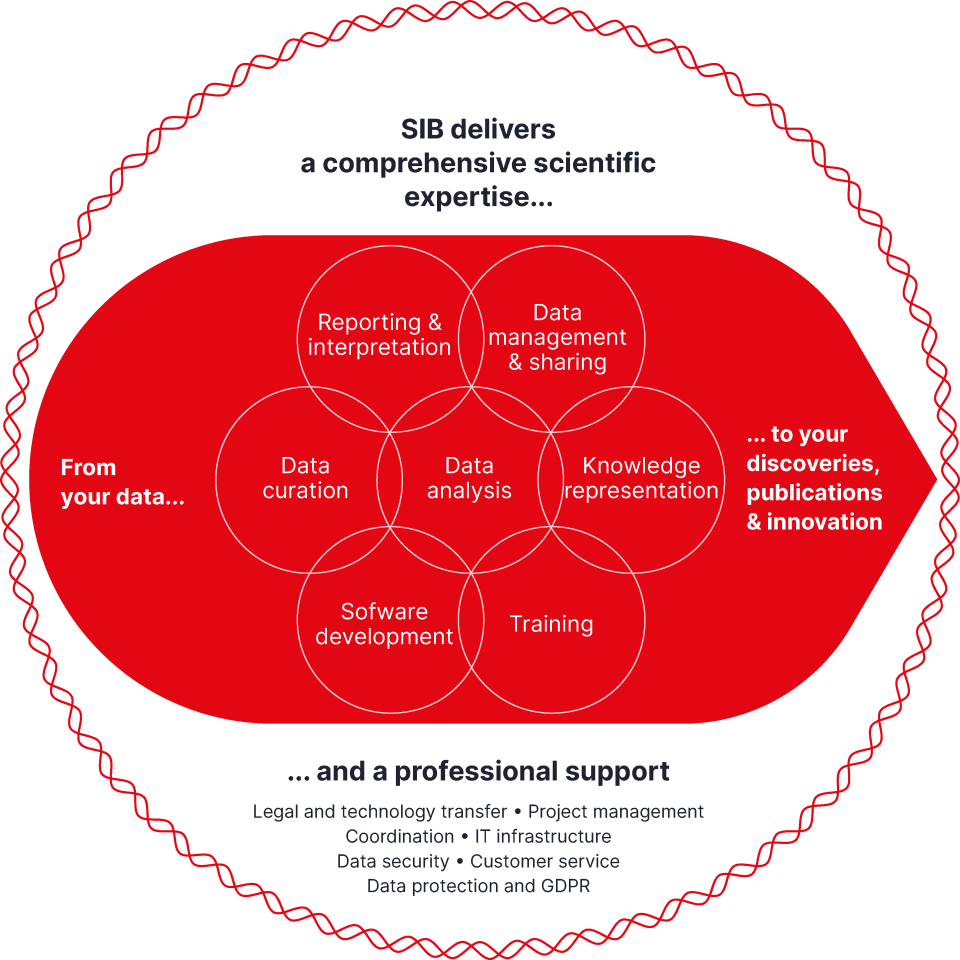 We make sense of life science data
We are data science experts, software developers, biocurators and computational biologists. We all share the same passion for data and the latest associated technologies. We believe that good data science needs a strong understanding of the nature of the data and the processes behind. The biological and biomedical data we regularly handle include:
Clinical (collected in routine, from clinical trials or cohorts)
Molecular imaging
Multiomics and spatial analyses: genomics, metabolomics, lipidomics, proteomics, transcriptomics, microbiomics

Single-cell and bulk RNAseq, TCRseq, CITEseq, ChIPseq, ATACseq
Mass cytometry (CyTOF)
Mass spectrometry
Nanostring and protein arrays

Text, and more.
We help bringing innovation and health forward with a service offering across sectors
We have over 25 years of experience in successfully delivering data science services to the academic and private sector, from collaborating in large European public-private partnerships to engaging in contracts or Innosuisse schemes with biotech/biomed start-ups, SMEs, large companies and hospitals. Our solutions can be applied to any life science field, from agriculture to environment and medicine, and we can build on our extensive experience on infectious diseases, diabetes, precision oncology and more. 
Our approach: collaborative, independent and reliable
We turn our in-depth expertise into integrated solutions, in line with your goals and quality assurance, legal or regulatory constraints.
Before committing to a project, we work with you to build trust, specify expectations, and set clear goals. We assess costs, priorities and risks to maximize your investments. 
We support you in defining your specific needs and put together the team best suited to deliver on your request. We can build on a national network of 800 scientists to find the most valuable expertise you need.
Our status as a non-profit organization and our dedication to the advancement of life sciences makes us a partner of choice for your projects.
Our missions are carried out with efficiency and include quality assurance and regulatory compliance in regulated environments (diagnostic, manufacturing, etc.).
Our technology transfer team is here to discuss the specifics of licensing and intellectual property in the bioinformatics and sensitive data field to get the project started.
Benefit from our hands-on expertise in data protection and IT security for your resources and data, whether they are sensitive or not.
More than a scientific project partner
Working with SIB means adding a significant value to the collaboration: in addition to the scientific expertise, we support you from the legal aspects to the IT infrastructure to ensure the solutions we deliver help you in the most efficient way and in the long-term:
To set up a partnership, we:
Discuss your goals, the needed expertise and deliverables

Address legal and data protection aspects

Draft a collaboration agreement
During the collaboration, we:
Listen and adapt to find the best solution to your challenge

Understand your environment, people and data

Deliver the highest scientific quality
Once the solution is delivered, we:
Provide customer support and training

Issue documentation, reports and recommendations

Enable upgrades, deal with maintenance issues and further developments