Focus on the group's mission
SIB Clinical Bioinformatics provides expertise and support for the organization, analysis and interpretation of patient-related data (e.g. omics data), converting them into clinically useful information for health professionals in order to foster optimal patients' care. 
The group notably contributes to: 
Establishing common good practices for diagnostic omics analyses across Swiss hospitals;

 

Developing national collaborative platforms to support clinical research, surveillance and diagnostic;

 

Building partnerships with Swiss hospitals and industry to develop, implement and sustain state-of-the-art tools;

 

Providing clinical bioinformatics training across Switzerland.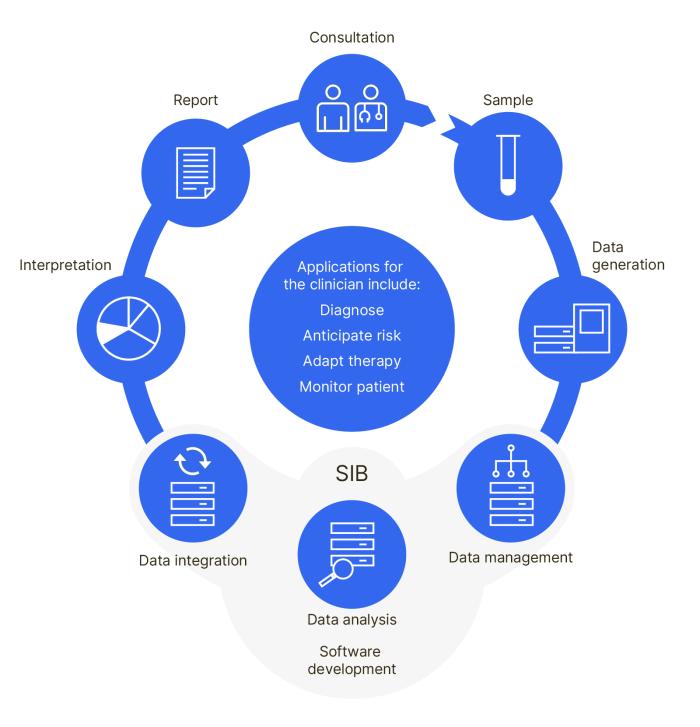 State-of-the-art diagnostic tools for hospitals
Through partnerships with hospitals, the group develops sample-to-report diagnostic tools that enable to streamline and automate bioinformatics analysis of patient data, while ensuring their privacy. Recent examples include: 
Developed the sample-to-report tool

OncoBench®

, with the Geneva University Hospitals (HUG). It is used by HUG Molecular Pathology since 2016 for the management and analysis of NGS patient data in routine cancer diagnosis (currently in version 5);

 

Developing GenBench, a patient- and lab analysis management tool, together with the Institute of Medical Genetics of Zurich. The tool serves the specific needs of medical genetics diagnostics. It enables patient monitoring along several dimensions, from the patient's medical visit to the lab work and results interpretation.

 
Supporting nationwide clinical research, surveillance, diagnostic
The group develops national collaborative solutions to support omics research, pathogen surveillance and clinical diagnostic. Recent examples include: 
Developing the SwissGenVar Platform, a nation-wide effort connecting for the first time all major academic institutions for Medical Genetics in Switzerland. It integrates diagnostic-grade genetic variants interpretation and high-quality clinical data (initially funded by

SPHN

).

 
Addressing industry needs
The group partners with biotech or pharma industry on establishing new bioinformatics tools in various fields, for example imaging or genotyping, while leveraging the breadth of expertise available at SIB: 
In collaboration with Lunaphore and the Geneva University Hospitals, generated machine learning solutions to power the analysis of molecular imagery to support the characterization of tumour microenvironments;

 
Read more about the collaboration
For a Swiss pharmaceutical company, development of a quality control signal analysis and technology assessment tool for bacterial genotyping in the context of drug production. 

 

Melanie

is our commercial off-the-shelf software for the analysis of 2D electrophoresis gel and blot images, supporting the discovery of protein biomarkers, monitoring the adaptation of organisms to their environment, development of diagnostic tests, quality control of food samples, and development of HCP ELISA tests (choice and validation of immunoassay reagents).
Providing clinical bioinformatics training across Switzerland
Training in clinical bioinformatics for clinical professionals contributes to enhanced communication across experts from various disciplines and better use of these novel technologies in daily routine: 
A yearly training course for clinical laboratories on NGS quality control and annotation for cancer diagnosis is run since 2017 in collaboration with HUG Molecular Pathology;

 

A 

Certificate of Advanced Studies (CAS) in Personalized Molecular Oncology

 is coordinated since 2018 by the group in collaboration with the University Hospitals of Basel and Lausanne and the University of Basel. First of its kind in Switzerland, this multi-disciplinary and multi-site programme aims at training the next generation of professionals from various backgrounds in this rapidly evolving field;

 
Members
View our group members here