"What motivates me most is thinking about how the solution can help improve users' daily tasks and ultimately, have a positive impact on patients." Meet Matthieu Fillon, who joined SIB in 2022 as a Senior Software Developer in the Clinical Bioinformatics group. He shares his passion for technical challenges, mentoring and mountaineering.  
Quick auto-bio
I have worked as a software engineer for the past 15 years in different environments and fields, mostly on web-based applications, after having studied computing mostly in France and a year abroad at Napier University in Edinburgh (UK). With seniority, I have been leading projects from a technical perspective, mentoring junior developers, taking part in the recruitment process and getting involved in strategic technological choices.
What made you choose a career in clinical bioinformatics and SIB?  
After four years in a startup environment for the hospitality industry, I was looking for more meaning in my work, while still having to solve complex technical challenges.
The work of SIB and in particular, the Clinical Bioinformatics group, got my attention because of their focus on analysing and interpreting patient-related data to foster optimal patient care. After learning more about the interesting projects and meeting the team, I knew that SIB was the right place for me. I was also impressed by the human approach and philosophy of SIB's People & Culture team.
What do you enjoy most about working as a software developer?
What drives me is the ability to bring value to partners and customers by helping them find technical solutions to their needs. I enjoy discovering new fields and learning how people do their daily work, so that I can identify opportunities for software to improve their processes. I particularly like having an overall view of any project, working with a variety of stakeholders, from end users to technical experts, and collecting their requirements.
Over the years, I have also enjoyed mentoring and training junior developers. I believe that it is important to share my knowledge and experience with others and to help them develop their expertise.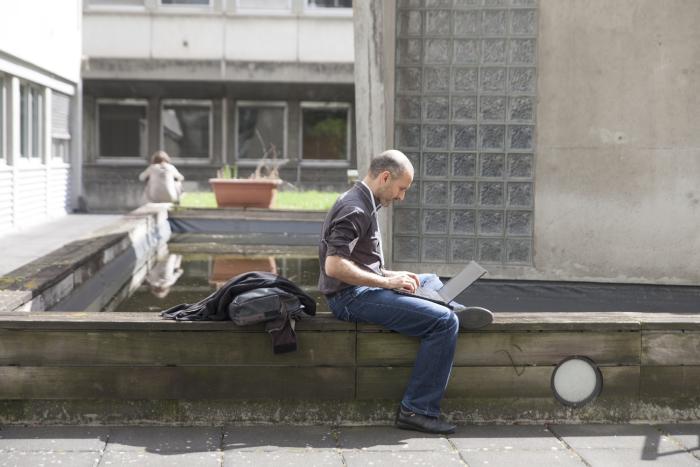 What project motivates you most right now in your new role?
Since I joined SIB, I have been working mostly on GenBench, a web-based software for the Institute of Medical Genetics of Zurich (read more). This project is aimed at managing the daily operations of the whole institute, from doctor's appointments to issuing final reports, with, at its core, handling procedures and assays applied to samples and materials from patients. An important part of the project, beyond the development of the tool itself, was to understand the users' needs and helping them improve and structure their processes. Learning about genetics is interesting to me, and the project offers stimulating technical challenges. But what motivates me most is thinking about how the solution can help improve users' daily tasks and ultimately have a positive impact on patients.
What aspects of SIB struck you when you arrived?
I was really impressed by how employees and members are involved in their job. You can really feel the passion people have for their fields. This passion is viral and a great source of inspiration in our daily tasks, and helps ensure you never lose sight of the bigger picture.
What do you particularly like at SIB?
Even before joining SIB, I was impressed by the recruitment process, which was thorough, making sure that it was a mutual fit, not only for the technical skills but also with the company's culture. Then, the onboarding process was made easy and smooth by both the team (group Director and colleagues) and the People & Culture department.
I particularly appreciated SIB's human approach, which made me feel I was more than just another resource in the organization. I felt like I was part of a team with a long-term collaborative vision. This mission and vision, of both my Clinical Bioinformatics group and of the institute, are also things that inspire me every day in my work.
What is SIB doing particularly well and what could be improved to promote equality, diversity and inclusion in scientific careers?
I appreciate SIB's commitment to gender equality, as evidenced by its well-balanced salaries gender-wise (as per the recurring equal pay analysis), and the fact that women represent 42% of Senior Management positions [see more figures]. I also find it encouraging that the institute has a Diversity working group, which is dedicated to promoting diversity and inclusion in the workplace.  
To wrap it up, tell us a bit about yourself!
I love mountains, and express it in different ways, including rock climbing, mountaineering, hiking, backcountry snowboarding and contemplation.