Today marks the anniversary of the publication of Charles Darwin's famous work 'On the Origin of Species', published on 24 November 1859. And how best to celebrate evolutionary biology than through stories showing some of the real-life implications of this somewhat abstract concept? This is the purpose of the website lightofevolution.org launched today, through interactive stories to understand what we, humans, have in common with the banana, what the evolution of coronaviruses tells us about the pandemic, and more to come. This SNSF-Agora funded project was developed by SIB Members and awarded the 2021 Optimus Agora prize.
Evolution enables us to answer many scientific and societal questions. This is why SIB Group Leader Christophe Dessimoz, Research Scientist Natasha Glover – both at the University of Lausanne – Outreach Manager Marie-Claude Blatter and Training Manager Monique Zahn jointly developed a resource in French and English to raise awareness around the topic, in collaboration with graphic designer and developer Andries Hannaart. Two interactive stories are already live, with many more to come, including one featuring a Tyrannosaurus rex and a chicken…
'Banana split' or the quest to find genetic similarities among organisms
Click on 'Banana split' and you will find out that the existence of genes in common is proof of the relationship that exists between all living organisms, debunk some false information circulating on internet, and understand what 'orthologous genes' means. You will also discover how to generate fun memes about evolutionary facts (see image) on ohmygenes.org and thus contribute to popularizing evolutionary biology. The scientific data it relies on comes from the OMA database, an SIB Resource.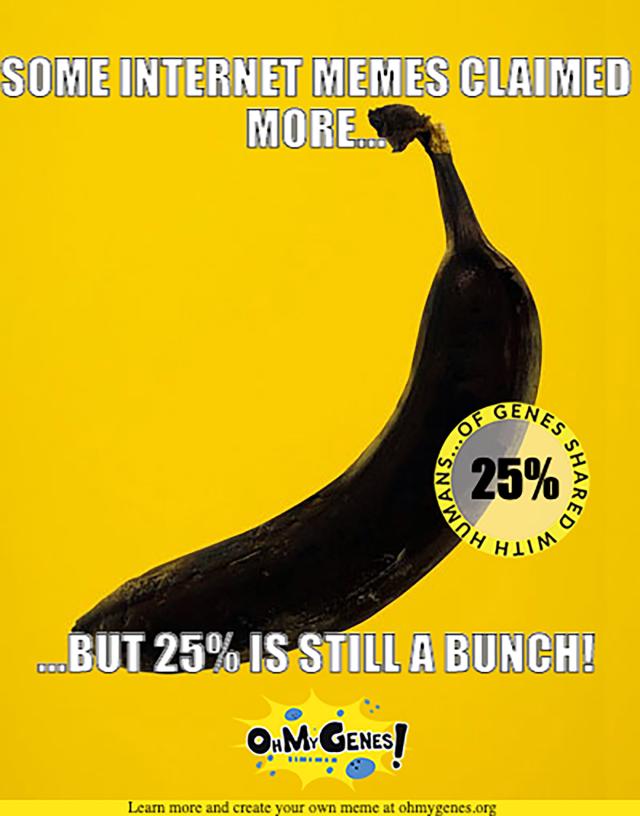 'Hunt for variants' or tracing the steps of SARS-CoV-2's evolution
Did you know that 'variants' are combinations of specific mutations that persist through time ? Step into the footsteps of the scientists tracking viruses: learn along the way how to represent mutations in a phylogenetic tree, and learn what wastewater can tell us about COVID-19 (a work which used the SIB Resource V-Pipe).